Tempo Traveller Hire In Delhi

ᴛᴇᴍᴘᴏ 18 sᴇᴀᴛᴇʀ , 20 sᴇᴀᴛᴇʀ , 26 sᴇᴀᴛᴇʀ || вυѕeѕ 2x2 27 ѕeaтer , 35 ѕeaтer , 45 ѕeaтer || вυѕeѕ 2x3 49 ѕeaтer , 52 ѕeaтer , 56 ѕeaтer

Get Online PKN Modified Tempo Traveller Luminous Bus Service has large fleet of Modified tempo traveller in various seating for outstation journey from Delhi. Plan your weekend and group holiday trip with luxury tempo traveller which has all of royal facilities include pushback seats, LED, Music System, Ice Box, Ample space for luggage, sofa, AC, Wi-Fi and more facilities.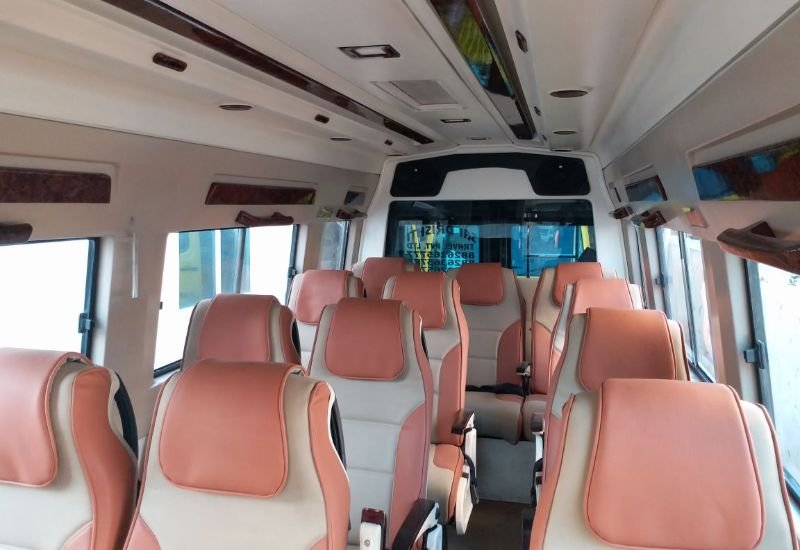 Depending on the number of travellers, you can choose from the following configurations, based on your convenience.
| Configuration | Ideal For |
| --- | --- |
| 10-seater Tempo for rent in Dehradun | Budget travellers needing pick-up and drop facilities, includes airport and office drops. |
| 12-seater Tempo Traveller in Dehradun | AC 2+1 for those sight-seeing trips |
| 14-seater Tempo Traveller for rent in Dehradun | Force AC 2+1 when comfort and AC options are essential |
| 15-seater Tempo Traveller for rent in Dehradun | Mahindra Non-ac 2+2 for small families. |
| 16-seater Tempo Traveller for rent in Dehradun | Force AC 2+1 when travelling in Large Group (10+ passengers) |
| 17-seater Tempo Traveller for rent in Dehradun | When travelling with 15+ passengers |
| 18-seater Tempo Traveller for rent in Dehradun | Pilgrimage, marriage party, office outings, school and college trips |
| 20-seater Tempo Traveller for rent in Dehradun | Large number of pick-up and drops for larger groups |
Why should you rent Tempo Traveler Services?

It is possible to book an online booking be able to go to the comfort of your home. The process of booking a visit is easy in the event that you decide on the best option of enlisting beat voyager/any car the most suitable option. It is possible to book online a time by visiting any part of India. We have our offices in the capital city of India and in the perfect location Central Delhi, We offer different types of vehicles like Taxis, Vehicles, Taxis smaller than anticipated mentor and rhythm explorer with premium services from the most recent five years beat voyager that is able to accommodate seats that are able to be adjusted, AC non AC and various offices. We recommend any trip with Rent Tempo Traveler and you can reserve here flexible trip bundles such as couple, family schools, staff, and more, Sai Taxi Service offers a variety of non-ac and rhythm cruiser Hire at Noida. You can book online taxi services for vacationers in delhi Extravagance Beat Voyager 9 seat Tempo Traveler for Rent in Delhi 12 seater Tempo Traveler Bookings in Noida 1x1 seat Maharaja Tempo traveler Noida Extravagance Rhythm Explorer Rental in Noida 15-seater Tempo Traveler price in Noida 16+1 seating seats 18+2 and 26, small-scale mentors with small scale mentors for Delhi, Agra visit, Jaipur stronghold and sightseeing, Shimla, kullu and Manali flexible bundle Rajasthan amazing visit bundle, Haridwar Ganga Aarti Trip, Rishikesh boating visit, Char Dham Yatra including valley of blossoms, Dharamshala Bundle, Amarnath yatra, Vaishno Devi Darshan and Haritage visit Jim Corbett, We offer Tempo Traveler on Rent at Delhi at Cheapest Cost @Rs.16 K.m. 9,12,16.16.18.20. Seater Tempo Traveler Rental for hire in Delhi, Gurgaon at 24 All-Seven Hours, Every Day. Sai Taxi Service can assist you with plan and make your journey memorable for the rest of your life.
Tempo-Traveller Hire located in Delhi
Sai Taxi Service offering the use of a rhythm voyager in Delhi for a trip out with your loved ones and huge gatherings in the vicinity of Delhi to outstations for an extended excursions or just a few nearby destinations for a day excursion, employing a beat explorer for a lease is the ideal option to travel. A long trip can be difficult as because of the absence of authentic travel options and if you do not get a luxurious and comfortable beat voyager, your excursion isn't any more exciting than you expected. Sai Taxi Service in Delhi is the most sought-after travel transportation specialist co-op that provides a luxurious beat-setter at a reasonable price.
A vast array of vehicles is available through Sai Taxi Service in Delhi and each of them comes with amazing features like GPS Theater setup, Wi-Fi, push back seating arrangements and additional. Based on your requirements, we can provide any vehicle from 9 to 20 seats in a cost-effective range. We can also arrange for a rousing beats for your excursion for an affordable cost. For more information on pricing, booking strategies and the accessibility of the beat explorer's vehicles in Delhi Visit Tempotravller.com. We are available all day and out, so remember to reserve as soon as you can to take advantage of the from a customized offer.